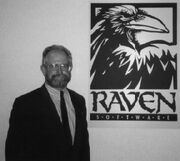 The real-life John F. Mullins is a professional "consultant" and the basis for the main character in Soldier of Fortune. John consulted the SoF development team on the production of the game. Here's a picture of Mr. Mullins from his visit to Raven...his alter-ego is shown below.
Born in Southwest Oklahoma in 1942. Joined the U.S. Army out of high school, quickly becoming first a paratrooper, then a medic in the rapidly-expanding Special Forces (Green Berets). Served his first six month tour on an "A" Team in the Republic of Vietnam in 1963. Commissioned an Infantry Second Lieutenant in 1964, attending Ranger School in 1965, Lieutenant Mullins then once again served on an "A" Team in Vietnam during the 1966-67 period, as a Studies and Observations Group (SOG) officer in 1968-69, and as a Provincial Reconnaissance Unit (PRU) Advisor in 1969-70.
By then a Captain, John Mullins returned to the U.S. for advanced schooling in tactics and languages, returning overseas for assignment in Europe as a Special Operations Officer. Throughout the 1970s he ran training and operational missions in Europe, the Middle East, Africa, Central and South America.
Retiring from the military in 1981 after twenty-one years service, nineteen of it in the Special Forces, Mr. Mullins offered his services to government and civilian customers, returning to the Middle East for three years, then performing missions in Central and South America, Europe, Africa, Afghanistan and various countries in the Far East. These missions ran the gamut: training, VIP Protection, asset recovery, hostage negotiation and rescue, advising, and occasionally leading foreign police and military personnel in high-risk operations.
In 1990, Mr. Mullins founded Longbow, Incorporated, a company that specializes in the manufacture of Non-Toxic Frangible ammunition, marketing this product (built upon his patent) to law enforcement and military customers throughout the United States and the rest of the world. Mr. Mullins also founded W.C.B. & Associates, a company specializing in the construction of tactical firing ranges, and is the founder and president of the Tallgrass Center for Advanced Tactical Training (TCATT), which presents live-fire training courses for the police and military.
Mr. Mullins is an author with one published novel (Days of Fire, Berkeley Press, 1991, soon to be reissued by Soldier of Fortune Press), two more novels to be published in 1998-99, and magazine and trade journal articles too numerous to mention. His teleplay for Soldier of Fortune, Inc., the syndicated series, was aired during the 1997-98 season. Another teleplay has been purchased for the second year of the series. In addition, his second novel, "Iceman and the Tracker", has also been optioned for a major motion picture.
Mr. Mullins has a BA in History from the University of Maryland, and an MBA from Midwestern State University. He speaks four languages, is a frequent panelist and guest speaker for conferences and seminars conducted by government and corporate entities, in particular those dealing with First Responder Training for Incidents Involving Weapons of Mass Destruction. Mr. Mullins also serves as a consultant to the Federal Emergency Management Agency (FEMA) in matters of Law Enforcement Training for response to WMD.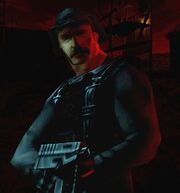 Combat awards include the Silver Star, Bronze Star with three Oak Leaf Clusters and several Purple Hearts. Military schools are too numerous to mention, but run the gamut from Military Free Fall to Underwater Demolitions to Counterterrorism. Other specialties include VIP Protection, High-Risk Installation Security, Aviation Security and Intelligence.